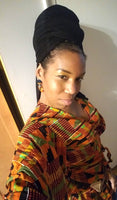 About Us
Owner, Jameelah Shamsiddeen is a native of Harlem, New York and a graduate of the Fashion Institute of Technology in New York. Jameelah is a two-time Breast Cancer survivor, who found it necessary to take control of the products she and her family were putting in and on their bodies. She makes organic personal care products for everyone in the family, even the family pet dog. Her victories against Breast Cancer inspired her entrepreneurship to create Enhance By Nature.
Enhance By Nature has a one-of-a-kind Breast Cancer Awareness collection, created in celebration of all the fighters, survivors, and victims of Breast Cancer. The Angel Collection is naturally colored with calamine powder, which is high in zinc giving it antioxidant and anti-inflammatory properties for healthy skin that glows.

Business owner Jameelah believes "being natural is not just a statement, it is the closest
thing to you being you". She takes pride in positively benefitting her client's wellness, beauty, and self-care, while encouraging self-love.
Enhance By Nature is everyone's secret weapon to achieve and maintain smooth, soft, and glowing skin, all year round. The organic skin care line is positively bursting with goodness to pamper skin from the outside in. The plant-based brand is tailored to naturally benefit the body by eliminating the use of any synthetics, sulfates, parabens, petroleum, or phthalates. The natural, mood-boosting benefits of every hand-picked, organic
ingredient complement an overall healthier lifestyle.
Enhance By Nature incorporates many superfoods, including Matcha green tea, red wine and
cactus juice. While food is a vital part of our lives, these in particular have proven health benefits when used topically. Superfoods Aloe Vera and sea moss are incorporated in the limited edition soap set. The high vitamin and mineral content found in superfoods help the body ward off diseases and keep you healthier.
To avoid the use of chemical preservatives, we handcraft every product to-order!
No Synthetics No Sulfates, No Parabens, No Petroleum, No Phthalates.
Enhance By Nature is a Natural Skincare and haircare brand that believes plant-based beauty products can and will improve your skin, hair and life.